It's our pleasure to introduce the HVLS (High Volume- Low Speed) fan to you——EURUS Series super large energy-saving fan with a diameter up to 7.3M.
Kale Airfoil Blades, which are streamlined, are developed with the advanced technologies and the principle of aerodynamics. Just with a power of 1.5KW or less, the blades are able to drive a mass of air and then produce a large scale of natural wind, which leads to the double functions of ventilation and temperature cooling. Compared with the traditional HVAC conditioners and small high-speed air blower, the fan has superior advantages in application, and is the ideal solution to ventilate and cool the air in large area.
Compared with common geared motor
Adopt imported Germany LENZE motor, and work with Germany company to develop geared motor for HVLS products.
1. Use low backlash assembly process and gear grinding technique, lower noise
2. Strength the bearing frame structure, increase oil seal and strength the motor structure with trapezoidal shaft structure, higher safety
3. Adopt IE2 high efficient motor, save more 5-10% than IE1
4. Passed CCC, CE, UL certificates
1500T Hot forging & numerical control machining & CNC precise machining
The hub made by 1500T Hot forging, numerical control machining and CNC precise machining. Forging is able to confirm the consistency of metal structure, which can keep the inside structure and the outside shape of forged pieces consistent. Complete streamline structure of the metal confirms the best mechanical property of the hub. By CNC machining, the precision tolerance has been controlled in 100um, which guarantees the precise dynamic balance of the hub.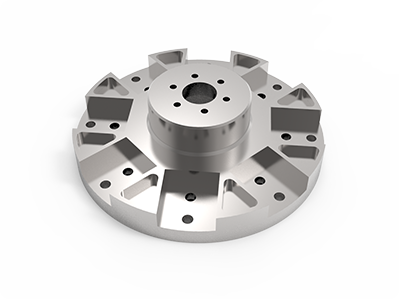 Top level electrical configuration in HVLS industry
Schneider brand electrical sets, with buildin safety protection module which will shut down the output automatically in case of some accidents.
Germany brand control cabinet, passed EMC by SGS and CCC certificates, meanwhile, passed anti-creeping tests which shields electromagnetic interference effectively.
Protection level is IP55, passing UL, EMC,LVD, ROHS certificates.
New Kale Airfoil Blades
Adopt imported special high strength aircraft grade magnalium, PVFD processed in surface,and aerodynamics fan blade design. Kale new special patent—Kale Airfoil Blades,there is 3 sets strengthening support system inside,which increases the strength of fan blade and avoids the drop of fan blade tail and the loss and fatigue of fan blade to connecting pieces completely.
Aerodynamics Winglet
The kind of empennage isalways seen among airplanes and motorcycle races, but it's not designed for beauty. Eddies will be formed in the end of the streamlined fan blade while airflow is running. With winglet, this part of energy loss will be avoided,fan will run steadily, which will bring economic effect.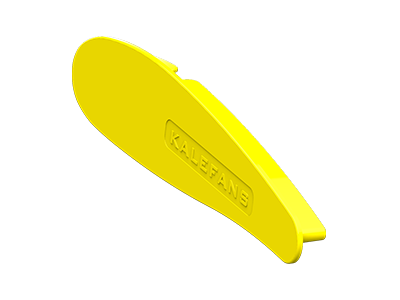 Parameters Industrial ceiling fan HVLS
EURUS SERIES(7.3m)
Brand:KALE
Size:24ft(7.3m)
Model:D6BAA73
Air volume:13050m³/min
Max speed:55RPM
Fan weight:120kg
Power:1.5Kw
Full load
current:3.5Amps/380V 5.7Amps/220V
Noise level:40dB(A)
EURUS SERIES(6.1m)
Brand:KALE
Size:20ft(6.1m)
Model:D6BAA61
Air volume:12150m³/min
Max speed:65RPM
Fan weight:105kg
Power:1.5Kw
Full load
current:3.5Amps/380V 5.7Amps/220V
Noise level:40dB(A)
EURUS SERIES(5.5m)
Brand:KALE
Size:18ft(5.5m)
Model:D6BAA55
Air volume:11850m³/min
Max speed:70RPM
Fan weight:93Kg
Power:1.5Kw
Full load
current:3.5Amps/380V 5.7Amps/220V
Noise level:40dB(A)
EURUS SERIES(4.9m)
Brand:KALE
Size:16ft(4.9m)
Model:D6BAA49
Air volume:11250m³/min
Max speed:75RPM
Fan weight:80Kg
Power:1.1Kw
Full load
current:2.4Amps/380V 4.2Amps/220V
Noise level:40dB(A)
EURUS SERIES(3.6m)
Brand:KALE
Size:12ft(3.6m)
Model:D6BAA36
Air volume:10350m³/min
Max speed:95RPM
Fan weight:65Kg
Power:1.1Kw
Full load
current:2.4Amps/380V 4.2Amps/220V
Noise level:40dB(A)
Installation Condition ceiling fan hvls AEOLUS SERIES
Installation Condition
Building structure: H-beam, I-beam, concrete, bent frame structure, spherical structure etc.
Building total height is required more than 4.5M.
Safe distance between fan blade and obstacles is more than 0.3M, and the height between installation point and below obstacles, such as crane, is 1.2M.
Input power: 380V or 220V
Applications ceiling fan hvls AEOLUS SERIES
Video customer installed hvls industrial ceiling fan
For further information please contact
ABPT JOINT STOCK COMPANY
Headquarters: 144/12 Co Linh – Long Bien – Hanoi – Viet Nam.

Showroom: Tan Quang Industrial Park – Van Lam – Hung Yen
Phone: (+84)024.38712588 | Fax: (+84)024.38751133
Hotline: (+84)91.682.6833 | Email: kalefansvn@gmail.com