Industrial ceiling big fan HVLS Engine Series
HVLS, which is driven by PMSM advanced drive, is named SHVLS (Super High Volume Low Speed). It is the most advanced solution in the world of HVLS industry, representing the future development trend of HVLS industry. Kale R & D team masters the latest core technology of PMSM in the world and has solved the industrial issues in terms of the large torque and low speed. We developed the first super large diameter SHVLS in China by using mature technology. We named it Engine Series, and all the performance indexes of this product reached the highest level in the world.
Main Components Tech Industrial ceiling big fan HVLS Engine Series
PMSM Technology Industrial ceiling big fan HVLS Engine Series
PMSM technology has the characteristics of high speed / torque ratio, better dynamic flexibility, high efficiency, long life, low noise, wide speed range and so on. It is the highest standard of HVLS industry in the world. Through the company's design and development for many years, the current master of application of PMSM in the HVLS industry theory and the most cutting-edge technology, and transformed into productive forces. We have proved through the actual performance, the product greatly exceeded the performance of kale all foreign HVLS products, reached world leading level, proved Chinese wisdom and Chinese manufacturing capabilities to the world!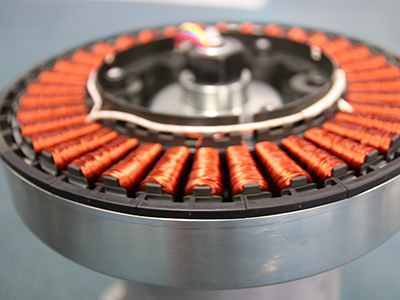 Superlative industrial design
The design of impact and infection has broken through the application of fan as a functional product, and has become the art of adding space grade. At the same time, it also transfers the new style of energy saving and environmental protection to the heart of every feeling.
The R & D team added a substantial number of options to the product for the users to choose. For example, the user can choose the appropriate color to match the original architectural style, and can also increase the practical function of the LED lamp, etc.
Select SKF to increase the bearing, CNC high precision carving and milling process, high precision process matching. The stability of the transmission system and the long service life are guaranteed.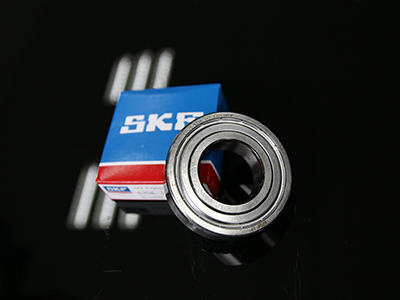 Kale Airfoil Blades fan model
Imported special high strength aero magnesium aluminum alloy, surface fluorocarbon paint treatment, aerodynamics leaf type. Kale Airfoil patent Blades model fan unique design: buildin three sets of reinforcing system, strengthen the blade strength, completely avoid the fan blades on the end of sagging and fatigue loss of connected components.
Parameters Industrial ceiling big fan HVLS Engine Series
Engine (4.9M)
Brand: Kale
Technical specifications: 16ft (4.9M)
Model: SHVLS-D6BAA49
Full volume: 588000m³/h
Maximum speed: 100RPM
Body weight of the fan: 64kg
Motor power: 0.6Kw
Noise level: 39dB (A)
Full load current: 3.0Amps/220V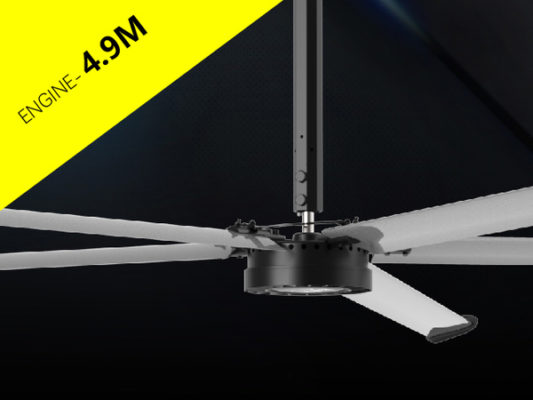 Engine (5.5m)
Brand: Kale
Technical specifications: 18ft (5.5m)
Model: SHVLS-D6BAA55
Full volume: 633000m³/h
Maximum speed: 80RPM
Body weight of the fan: 68kg
Motor power: 0.7Kw
Noise level: 38dB (A)
Full load current: 3.6Amps/220V
Engine (6.1m)
Brand: Kale
Technical specifications: 20ft (6.1m)
Model: SHVLS-D6BAA61
Full volume: 700800m³/h
Maximum speed: 70RPM
Body weight of the fan: 73Kg
Motor power: 0.8Kw
Noise level: 41dB (A)
Full load current: 4.0Amps/220V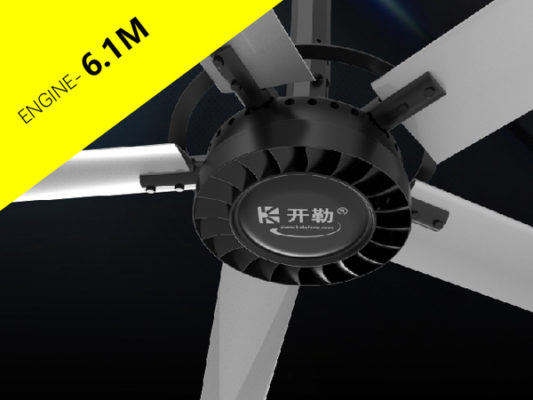 Installation Condition Industrial ceiling big fan HVLS Engine Series
We have an experienced engineering team on elctricity, machanism and architecture who will provide the most reasonable installation plan for different structures according to stress analysis, and can install fans for qualified structures.
We all know that intallation is a very vital process, so during it, strict norms & installation standards and our profession must eliminate all your doubts.
1.Customized installation plan;
2.Well-equipped with life truck;
3.Rich experience to debug the level, height and balance;
4.Dynamic balance test,make sure to run steadily;
5.Fasteners with torque standard, achieve the best fastening;
6.Brief & scientific installation process.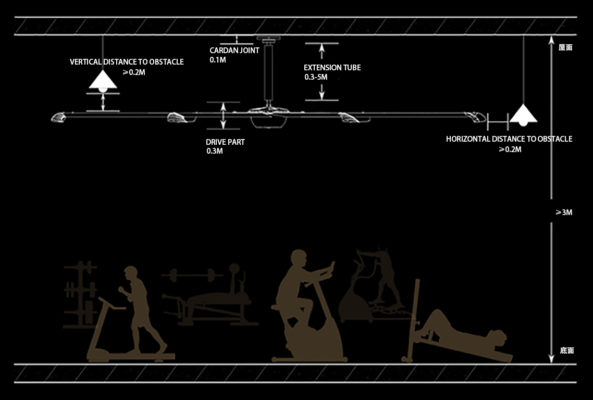 Applications ceiling big fan hvls Engine Series
Industrial application:Workshop / logistics storage warehouse
Sports industry:gym / gymnasium / indoor sports field / training room
Leisure and entertainment:large amusement park / animal botanical garden / children's playground
Traffic hub:Railway Station / high speed railway station / car station / subway station / terminal
Commercial sites:Exhibition Center / 4S store / major professional product distribution market / large shopping mall and supermarket
Other areas:the front office / Villa / canteen / Museum / large outdoor business lease of the office building…
The characteristics of the engine are fully and vividly embodied in our products
Light weight:the host height is only 0.3m, and the overall weight is less than 80kg.
No maintenance required:adopting PMSM motor, electromagnetic induction principle, no maintenance required.
Fantastic appearance:the design inspiration comes from the engine turbine.
More energy-saving:the use of the most stringent requirements, the overall service life for more than 15 years.
Hyper silence:the application of PMSM makes the engine noise index less than 40dB for the first time.
Video customer installed hvls industrial ceiling big fan
For further information please contact
ABPT JOINT STOCK COMPANY
Headquarters: 144/12 Co Linh – Long Bien – Hanoi – Viet Nam.

Showroom: Tan Quang Industrial Park – Van Lam – Hung Yen
Phone: (+84)024.38712588 | Fax: (+84)024.38751133
Hotline: (+84)91.682.6833 | Email: kalefansvn@gmail.com